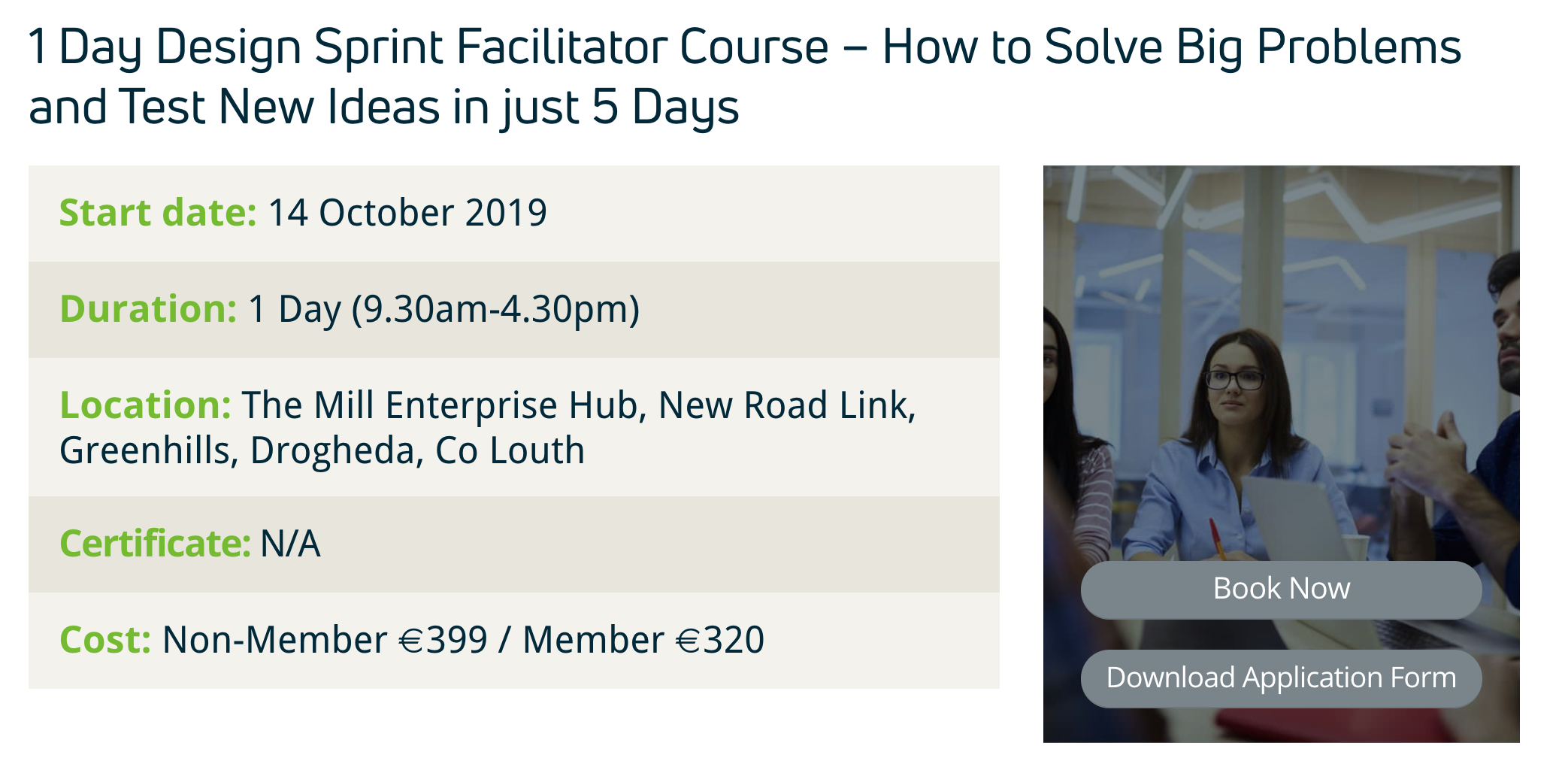 Date
14 Oct 2019
Expired!
M1 Skillnet 1 Day Design Sprint Facilitator Course
Applications Closing on October 7th 2019
Apply here: https://m1skillnet.ie/training/design-sprint/
Programme overview
Design Sprint Facilitator Workshop on Jake Knapp's Process (How to Solve Big Problems and Test New Ideas in Just 5 Days)

Learn how to run your own Design Sprints: Be guided through a hands-on, simulated experience of a Design Sprint, in almost real-time. Master the exercises by actually doing them.

Product Managers and Product Designers face big questions every day. Now there's a surefire way to answer these important questions; the SPRINT. Jake Knapp created the five-day process at Google, where sprints were used on everything from Google Search to Google X. Think of Design Sprints as a 'recipe' where Design Thinking is the cookbook. Developed at GV, it's a "greatest hits" of innovation, behavioural science, design thinking, and more—packaged into a battle-tested process that any team can use. This is a Game Changer for your company. Learn how to facilitate an internal Design Sprint.

LEAN DISRUPTOR team has run Design Sprint Facilitator workshops in Ireland, Sri Lanka & Singapore and run Design Sprints for Corporates in the USA, UK & Ireland. They were trained by Jake Knapp.
• How many meetings and discussions does it take before you can be sure you have the right solution?
• What's the most important place to focus your effort, and how do you start?
• What will your idea look like in real life?

These are just a few of the questions a Design Sprint can answer for your company. Since Jake Knapp debuted the Sprint process in 2016, Facebook, Slack, Savioke, Bluebottle Coffee, Lego have all run very successful Sprints as well as hundreds more around the globe.