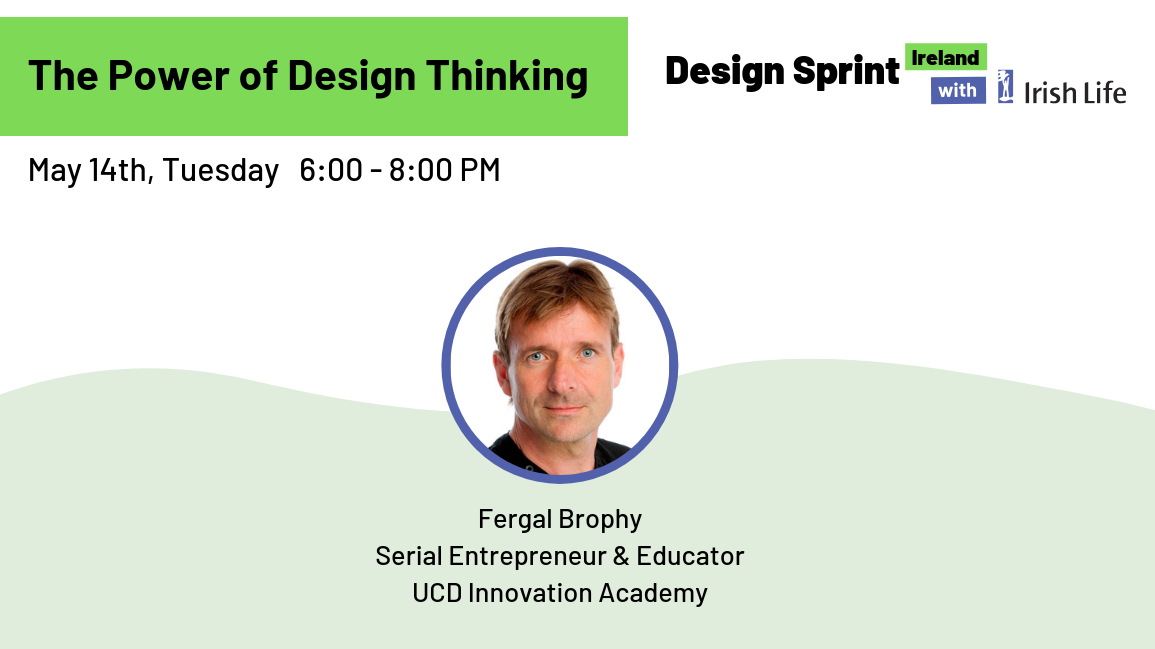 Date
14 May 2019
Expired!
The Power of Design Thinking
This is a 90-minute workshop. We are going to jump straight into an exercise as the best way to learn about Design Thinking is to do it!
If Design Thinking is the Cookbook, a Design Sprint is a recipe.
Design Sprint stems from Design Thinking so in this meetup we are going to talk (with less talking, more doing!) purely Design Thinking.
We are lucky enough to have the opportunity to hear from one of the best Design Thinking educators in the country. Our good friend Fergal Brophy from UCD's Innovation Academy.
Fergal is a serial entrepreneur with extensive experience in the corporate sector. He co-founded Open Financial Services in 2000 and sold it in 2014. He has held sales and marketing roles with Pepsi, Nivea and Kellogg's. Fergal has led innovation training programmes for ESB, Enterprise Ireland, Deloitte, Irish Stock Exchange and facilitated Hackathons for US Embassy, SciComm and New Ireland.
Thinking like a designer can transform the way organizations develop products, services, processes, and strategy. This approach brings together what is desirable from a human point of view with what is technologically feasible and economically viable. Design thinking relies on the human ability to be intuitive, to recognize patterns, and to construct ideas that are emotionally meaningful as well as functional. As IDEO founder David Kelley says, design thinking is not a linear path, "it's a big mass of looping back to different places in the process."