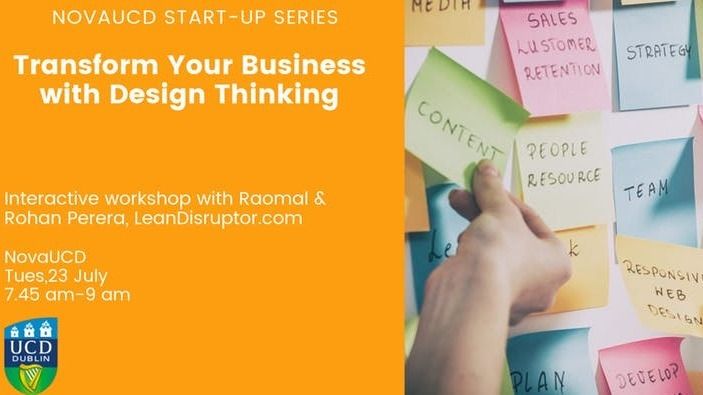 Date
23 Jul 2019
Expired!
Transform Your Business with Design Thinking
PLEASE REGISTER AT:
https://www.eventbrite.ie/e/transform-your-business-with-design-thinking-tickets-65171108540
Transform Your Business with Design Thinking
Design thinking can transform the way your start-up develops products, services, processes and strategy. Applying design thinking methodologies can help your company overcome key business challenges in today's fast-paced technology and data driven environment.
Rohan and Raomal Perera, LeanDisruptor.com will deliver this interactive workshop. You will learn valuable design methodologies and strategies that will transform your approach to problem solving and innovation.
Why Design Thinking?
Design thinking can be used as an innovative approach:
to create customer-centric products and services;
for problem solving and management strategy;
to anticipate and respond to new trends and technologies;
to develop systemised solutions.
Raomal Perera
Consultant, Adjunct Professor of Entrepreneurship INSEAD | Entrepreneur
Raomal Perera is a veteran of multiple entrepreneurial ventures and an Adjunct Professor of Entrepreneurship at INSEAD and UCD where he currently teaches and studies entrepreneurship, innovation and the management of rapidly growing companies.
Rohan Perera
Facilitator/Consultant/Design Sprint | Lean Disruptor
Rohan Perera is an advocate of Jake Knapp's (Author of Sprint, How to Solve Big Problems and Test New Ideas in Just Five Days) Design Sprint process. The Design Sprint packages the "greatest hits" of design thinking and innovation frameworks into a fast process that any team can use. Rohan has run multiple Design Sprints across Ireland, the U.S and the U.K for companies such as The Institute of Banking, Glandore, Aviva, ClaimVantage, Irish Life and Spencer Stuart International.